New clients of The Skin Hub receive a special facial offer valued at $610 for ONLY $299
DMK products online store for registered customers. Ask us how.
We offer a beautifully curated collection of Gifts + Homewares.
 A welcoming hub for everything skin and cosmetic tattoo.
Receive leading industry advice combined with a premium experience and real results with all of our services & products.
Founded & Directed by local entrepreneur Kelly Inglis.
To ensure our clients enjoy the highest quality facilities, state-of-the-art equipment, leading products, and highly-trained staff who are committed to continually participating in the most advanced training available in our fast-evolving industry. While still offering true client care which will never be forgotten in our clinic.

...A truly premium experience with real results.
Our team are dedicated to being transparent every step of the way – from pricing to explaining treatments and skin programs, even those that seem quite daunting.
We know there is nothing more personal than the topics of body, skin and beauty, but our knowledgeable and relatable approach will ease clients through their personal journey in achieving the results that are most important to them. An environment where our clients come before all else.
Owned By Founder and Director Kelly Inglis.
An environment where the team and clients come first, The Skin Hub offers REAL RESULTS and a PREMIUM EXPERIENCE.
The 'Best salon design' ABIA award winning space is Geelong's most premium 'hub' for everything skin and cosmetic tattoo– offering pre-eminent and the most relevant services and products within a welcoming and contemporary space that works to ensure client will always feel comfortable.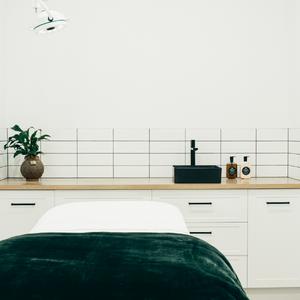 You can expect a 300 square metre premium space when you visit The Skin Hub. Geelong's largest clinic still ensures clients experience a comfortable and welcoming environment where everyone feels safe and everyone is welcome. The space includes a private consultation room, spacious treatment rooms with comfortable treatment bed and a beautiful waiting area. 
Clients can expect premium products that not only assist in beauty and clinical treatments, but also including sleep sprays, body products, gifts, specially curated gift boxes as well as on-trend accessories.
Our website www.thegiftinghub.com.au represents our store online with click and collect and postage services.
Offering only the best facilities and state-of-the-art equipment. We focus on creating highly-trained staff who love what they do. We are committed to providing you a premium experience with every visit to go with the real skin results we offer. You can expect clinical treatments with a touch of luxury. We only use the very best in skincare, to ensure you get the skin of your dreams.
The Skin Hub is a shopping destination in itself, stocking leading brands and products.
Your ultimate skin journey starts today.